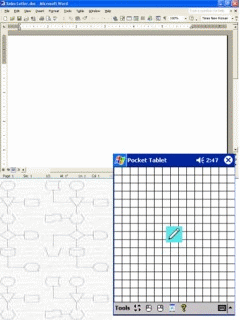 Now you can activate and control your desktop or notebook pc with the natural motions of a pen! This active pen tablet with visual feedback transforms your Pocket PC into a powerful and fun graphics tablet while it's sitting in the cradle! You can use the new handwriting recognition in Microsoft Office/XP and easily create more stunning graphic images by using a pen for drawing instead of a mouse!
Lets you use your Pocket PC as a digitizing tablet when connected to your desktop computer. You can use the stylus for graphics and handwriting applications where a pen is a more natural tool than a mouse.
Maintains all of the functionality of your mouse, and will work as a complement to the mouse allowing the user to use whichever device is most comfortable for the current application.
Can be used with one hand using the stylus or with two hands using the Action Button and the Stylus together.
May be oriented to use any of the four sides of your Pocket PC as the top of the tablet. This allows the user to orient Pocket Tablet in either portrait or landscape modes and supporting either right or left handed users.
Fully compatible with Pocket PC and Pocket PC 2002.
Visual feedback of pen strokes on the Pocket PC.
Audio feedback on the desktop and Pocket PC.
Innovative mechanism for switching between drawing and movement modes of operation.
Works as either a complement to or a complete replacement of the desktop mouse.
Convenient toolbar gives access to common mouse and tablet operations
Connection to the desktop PC via all communications methods of Pocket PC including wireless networking.
Enhanced digitizer resolution.
ActiveSync integration
Automatic desktop startup on ActiveSync connection.
Retails for $9.95 on our Entisoft Pocket Tablet web site. Here's your chance to bid less and save!
No shipping and handling, winning bidder provides us with his PPC owner information we provide electronic software download and activation serial number.
Requires a Pocket PC or Pocket PC 2002. Pocket Tablet will NOT work on older Palm PC or Palm Pilot PDAs
Please download the trial version on our Entisoft Website and then unlock the trial version by winning this auction.
Thank you for taking the time to view the information about Pocket Tablet.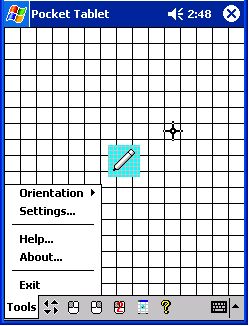 THIS PRODUCT IS BEING OFFERED BY THE PUBLISHER ENTISOFT. THERE IS NO COPYRIGHT INFRINGEMENT. YOU WILL RECEIVE A LEGITIMATE SINGLE USER LICENSE FROM ENTISOFT TO OPERATE ENTISOFT POCKET TABLET.
John F. Kallie
President/CEO
Entisoft